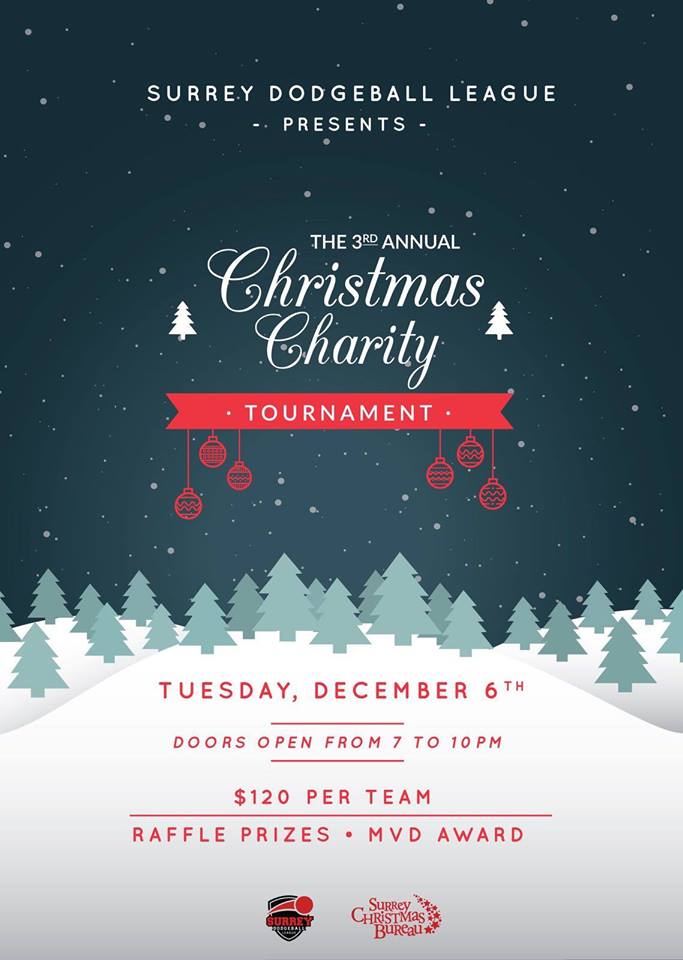 Ho Ho Ho, Merry Christmas and Happy Holidays!
Surrey Dodgeball League is very passionate about giving back to our community, so it is with great pride that we join with the Surrey Christmas Bureau in order to make a difference for local families
this holiday season. SDL is hosting a charity tournament and all donations will go to the Surrey Christmas Bureau.
The tournament will be on December 6th 2016, from 7:00pm to 10:00pm. Team registration is $120. Last year we had so many
teams who wanted to come out that we will be hosting two gyms again.
All participants will have the opportunity to win the title of MVD (Most Valuable Donator), meaning that whoever raises the most money in
donations will have their individual player fee waived for our next season of dodgeball.
Last year SDL raised $8457.00 for the Surrey Christmas Bureau ($3737.00 more than the previous year!!!), our goal is to donate even more this year for families in need. As our league grows so should our sense of community. Let us do our part in giving back to those in the area who need our help and spread some generosity this holiday season. Whether it's $5 or $50 all donations will go a long ways to allowing low-income families to provide their children with gifts this Christmas.
Get your friends together and take part in giving back this holiday season. We encourage all players to dress up with seasonal spirit and have a blast while participating in our charity tournament.
Playing dodgeball never felt so good!
To register for the tournament, please contact: